It's A Frozen Custard Fisticuff
Flavor Contest (Us vs. You) Winners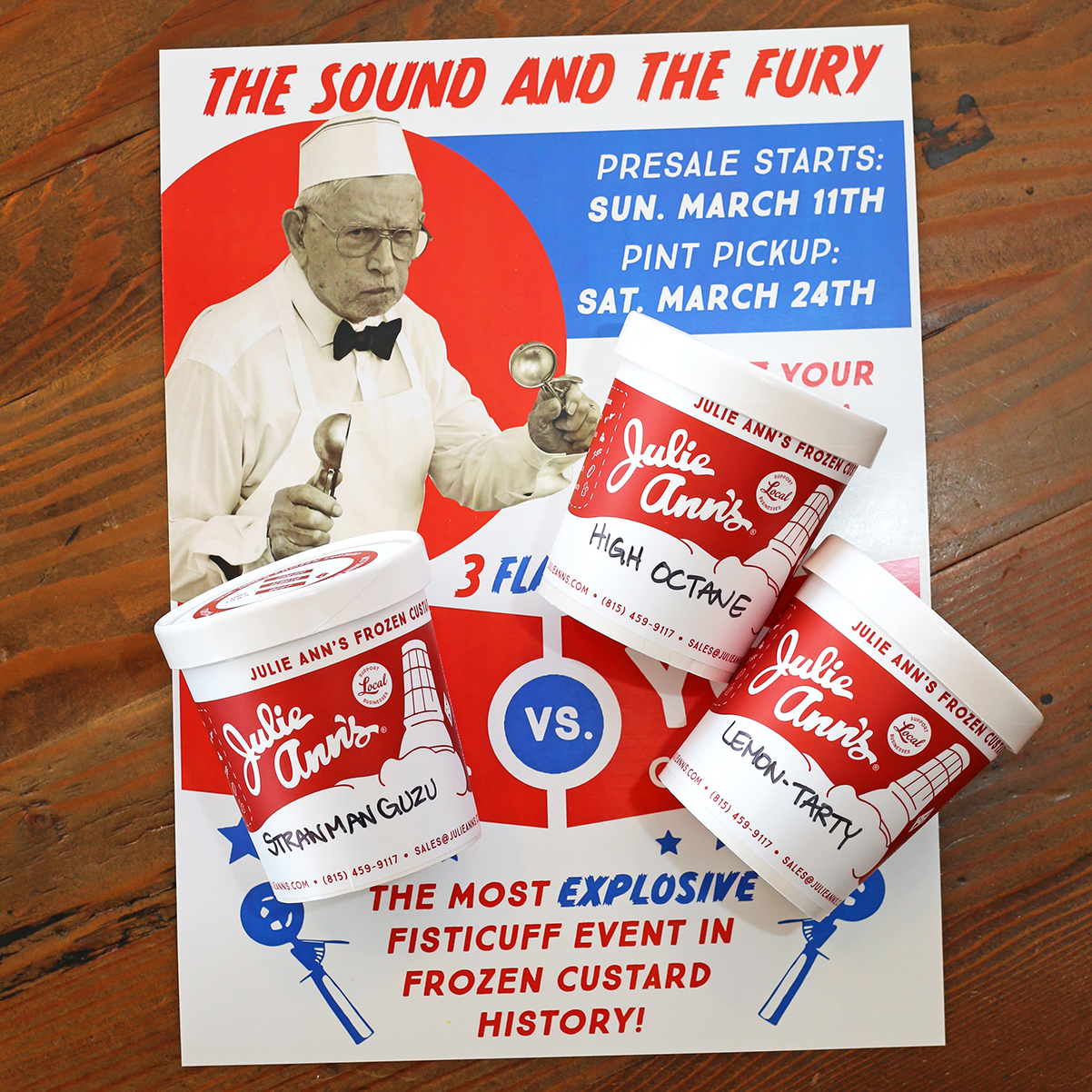 The contenders have been chosen! You can decide the winner with your purchase!
Thanks to the hundreds of flavor submissions over the past couple weeks. We had a blast looking over all the flavor ideas (some of you guys are hilarious with flavor ideas like "Tide Pod") but in the end we chose two flavors to compete against our Strawmanguzu.
How this works: whichever flavor sells the most before the pick-up day earns the title of champion. The flavor's inventor gets their name on a trophy that will displayed at the shop, not to mention a $50 Julie Ann's gift card. May the tastiest flavor win!
Preorder now, pay when you pickup!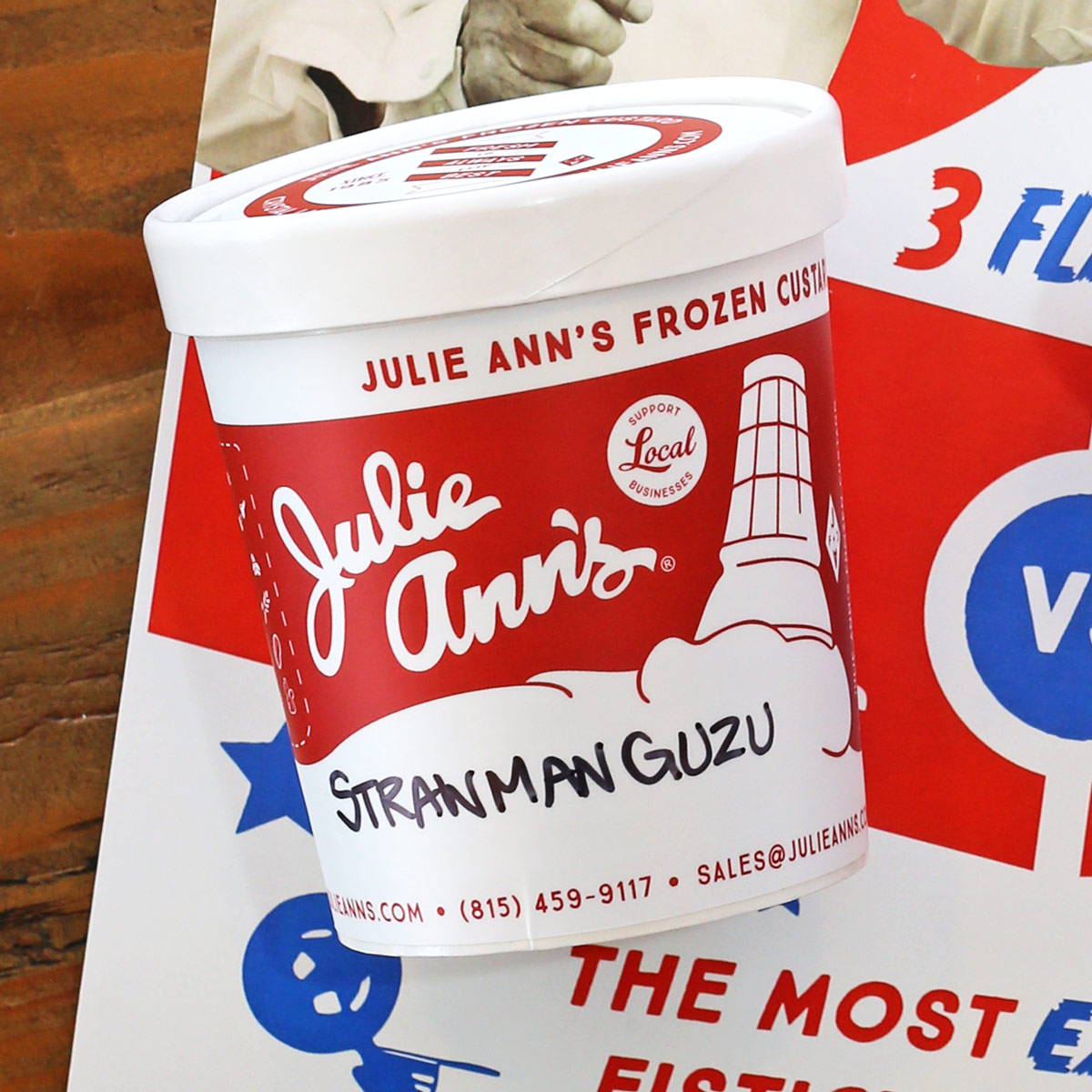 Strawmanguzu by Julie Ann's
We are putting a very special flavor in the ring against you, our customer. Strawmanguzu is a combination three different handmade custards made with real fruit thinly layered. It includes layers of Mango, Strawberry, and Yuzu (https://en.wikipedia.org/wiki/Citrus_junos). It tastes and looks like a frozen custard rainbow sherbert.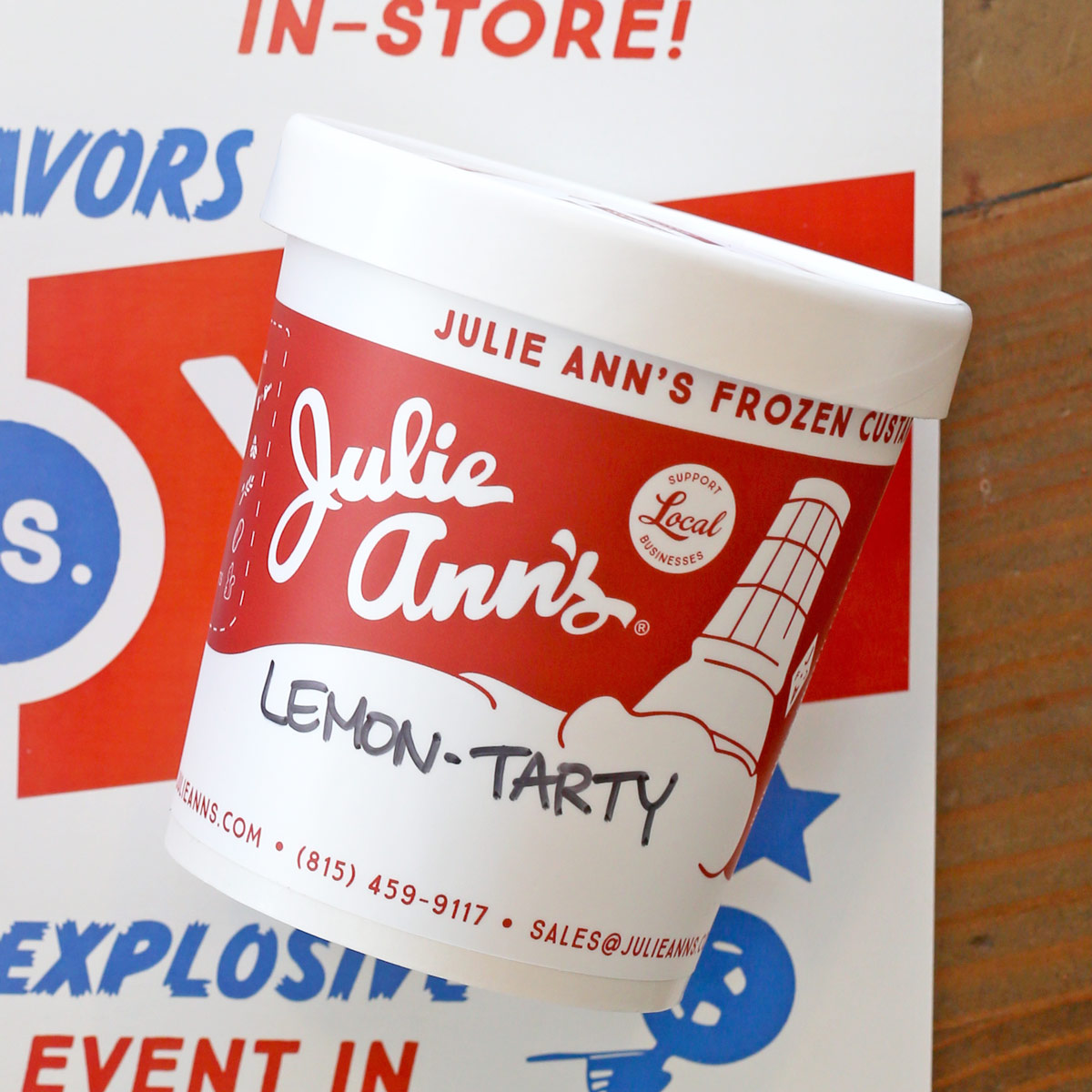 Lemon-Tarty by Lily Smiley
In this corner, we have Lemon-Tarty. Thanks to Lily Smiley for this amazing flavor idea! Lemon-Tarty is Lemon Custard with Fresh Raspberries and Freshly Baked Shortbread Cookies Layered in. This flavor will throw an upper-cut in the old jaw!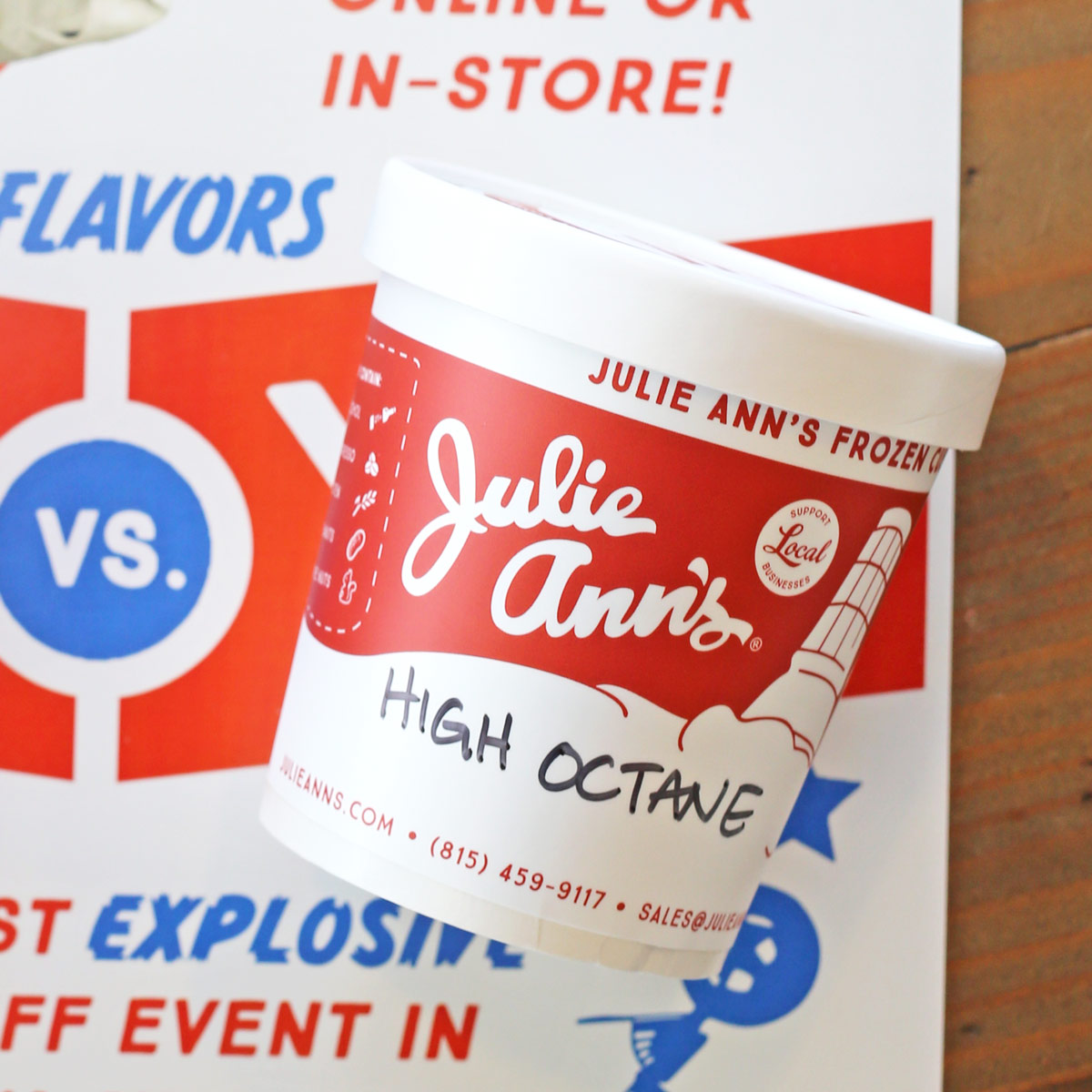 High Octane by Aidan Lance
In the other corner we have High Octane by Aidan Lance. High Octane has Chocolate Espresso Custard with Fudge, Caramel, and Locally Baked Brownie Pieces layered in. This is sure to knock-out your taste buds with Neon Espresso from Dogwood Coffee Roasters.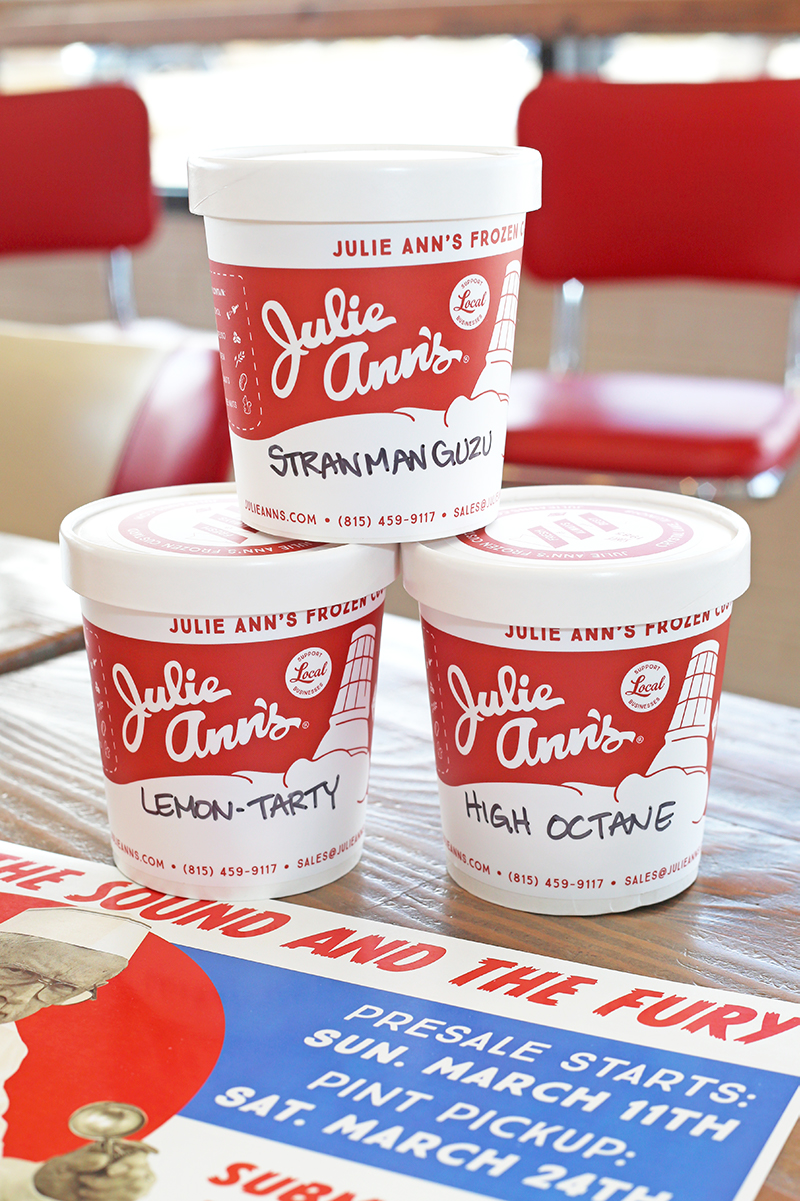 Update: Thanks for the hundreds of flavor ideas! We look forward to next years flavor battle royal! Here are a handful of the online submissions. Thanks for those of your who submitted in our shop.
Magdalena Green

Cookie Box – vanilla ice cream with snickerdoodle and Oreo crumbles and Andes mint with Carmel and fudge syrup swirls

Magdalena
What's your fortune ?
Chocolate custard base, fortune cookie pieces, whipped cream
A fortune on every cup or wrapped around straw
Laura
Sunday Brunch
Maple custard with chunks of buttery, maple syrup infused pancake chunks
Even if I don't win could you make this sometime??? I have tasted it elsewhere, so it isn't original…but it is SO delicious!
Lin
A Tribute to Sweet Street

Sweet Streetvwas an ice cream store in the same plaza you're in. It was probably open in the 80s. They had a chocolate ice cream mixed with Toblerone chunks. I think a chocolate custard with Toblerone chucks would be a hit along with a nice tribute to a former CL business.

Ted
Chilly Fries

My take on fries dipped in a shake. Base is chocolate custard with potato chips

Jennifer
Strawberry pretzel delight
Based on the strawberry pretzel salad with jello, cream cheese, pretzels, graham crackers and strawberries.
Bring it!
Laura
Pearfiggity
Pear and Fig Swirl
Fun
Sharon
Sweet Jalapeño

Vanilla bean base swirls of loca honey and bits of fire roasted jalapeño

Amber
Death by Peppermint
This creation starts with a peppermint custard base with red and green peppermint candies mixed in along with chopped up brownies and a ribbon of chocolate fudge sauce throughout.
No
Kara
RubyRedVelvet

Julie Ann's signiture vanilla custard base, layered with red velvet cake pieces, real strawberry chunks, dark chocolate chips and bits of vanilla buttercream. Yum!

Liz
Cookie jar

Vanilla custard, chocolate chip cookie dough bits, oreo pieces, chunks of peanut butter

Kim
Sesame Brulee
The base flavor is made from custard and black sesame paste. Ideally the paste would come unsweetened. The custard could then be sweetened (not too much) with a touch of clover honey for that nice, bright tang, followed by a dollop of molasses to bring it back down to earth. Finally, if possible, it would have layers of burnt sugar it it for a nice crunch texture as well as that amazing burnt flavor to complement the nutty flavor of the sesame. If burnt sugar wouldn't hold up in the custard, then it would have to go on as a final topping! Bonus points for presentation if it's torched in front of the customer ;]
Sometimes y'all will have 2 flavors on a given day – one is usually (always?) a booze flavor. You could do the same dual release with a culinary adventure flavor once every month or two. Make a small batch of something exotic (like Yuzu… or Tumeric Carrot Cake!) and release it. There could be an Adventurer's Club with an extra reward for buying the premium priced pints. I imagine you could work with some experimental chefs have the custard be Incorporated into their desert menu.
Galen
Fudge"oh"liscious
Dark chocolate with sugared walnuts, layered with milk chocolate and salted Carmel, ending with a layer of chocolate and fudge pieces.
It's a winner!
Susi
Coffee toffee mashup
Coffee flavored ice cream with fresh toffee pieces
Preferably sourced from local coffee shop (coffee) and chocolatier (toffee)
Kylee
Blood Orange Mocha

Mocha ice cream with chunks of blood orange sponge cake and dark chocolate ribbon swirls

Jenny
Pretzels & Beer

Vanilla custard swirled with caramel made from sugar and beer (Crystal Lake Brewing Beach Blonde would be a good choice), with chocolate-covered pretzel pieces mixed in

Joel
pecan bread pudding

Candied pecans, Carmel, vanilla bourbon icecreme, crisp bread pudding topping

Justine
Chocolate Peanut Butter Overload

Chocolate ice cream with peanut butter cups topped with chocolate fudge, peanut butter, and Reese's Pieces

Matt
Très Leches & Cookies

A flavorful, Latin take on the classic "Milk & Cookies!" Base of vanilla custard, soaked in evaporated and condensed milks, topped with whipped cream and finished with crumbled Oreo cookies.

Ashlee
Riesling Poached pears in cardamom cream

Pears poached in Riesling with Cardamom Cream is my specialty for Holidays. It could be delicious interpreted as a frozen custard. The base would be a cardamom cream- not too sweet. The pears (Bosc are excellent) are poached in Riesling and sugar, and are best left to sit for a few days in the poaching liquid. I whip cream and a little sugar with cardamom. For the custard, the pears should be cut into triangular or diamond shaped chunks and the poaching liquid should be made interesting a reduction and drizzled on top of the scoop of custard or incorporated as a ribbon through the custard.

Liz
Nutty buddy

Peanut butter flavored ice cream with bannana slices, crushed almonds and Nutella swirls

Caylee
Cinnamon Snickerdoodle

Cinnamon custard with chunks of Snickerdoodle cookies stirred in

KIMBERLY
50/50

half, your delicious, lime with some good old fashioned lemon…like canfield's 50/50 soda.

Chris
Choco Nutty Easter Egg Hunt

Creamy peanut buttery Reese's chocolate easter eggs hidden in a swirl of Nutella and vanilla frozen custard topped with colorful Easter bunny sprinkles 🐰

Kelly
Chocolate covered raspberry chambord

Raspberry chambord as the base, chocolate chunks, chocolate swirl and fresh raspberries.

Megan
Cotton Candy

Cotton candy with pieces of real cotton candy

Emily
White chocolate berry pie

Strawberry ice cream, fresh raspberries,- not raspberry compote (I don't think it will taste as good) whites chocolate chips,& gram cracker swirl

Cassie
Coconut Cream Pie

Old fashion vanilla custard (hint of yellow in it) layered with coconut flakes, pie crust pieces and marshmallow fluff. The fluff is like meringue on a coconut cream pie. Might need to put a hint of coconut flavoring in the custard. Equal part on the coconut flakes, pie crust and fluff.

Max
Açaí bowl

Julie-Ann's take on this superfood bowl is based with real frozen açaí and apple juice, sweetened with a touch of local raw honey. Topped with coconut flakes, chia seeds, and strawberries.

Ashley
almond delight
Chocolate ,almonds,coconut and fudge pieces
Mix all ingredients, top with cocunut.
Gail
Cinnchatta

Base is a vanilla rice flavor with cinnamon and topped with a dusted cinnamon and a cinnamon stick.

Gianna
Wired Day

Base of coffee ice cream with flakes of espresso, topped off with dark chocolate sauce and a few espresso beans.

Gianna
Katie Supreme
Chocolate and Vanilla custard with nutella, peanut butter, and bananas layered in and puppy chow sprinkled on top
no
Katie
Drak chocolate covered blueberry

Dark chocolate custard with blueberries with chocolate pieces

Carrie
Raspberry Mochatella Chunk

flavor base- nutella
toppings to layer in – raspberry puree or raspberry jam, chocolate flakes and coffee chocolate flakes

Michelle
Happy Turtle

Vanilla with heath bar peacans and carmel

Michelle
Hott pig

Vanilla custard blended with subtle bits jalapeño and black cherries and topped with warm caramel sauce and chunks of bacon.

Claire
G.O.A.T

Vanilla custard base, mixed with chocolate ganach, caramel, and peanut butter filled pretzel pieces.

Maggie
Cookie butter crunch

Cookie butter ice cream (made by mixing in cookie butter to sweet cream ice cream) and adding in brown butter rice krispy treats.

Michele
Sweet Celebration

Transport back to childhood with the taste of a classic ice cream cake! Vanilla and chocolate custard swirl together with – the best part – bits of chocolate cookie crumble.

Allyson
Happy Turtle

Vanilla with heath bar peacans and carmel

Michelle
Rum-ble in the Jungle
Base flavor = spiced rum & vanilla Toppings: toasted pecans, coarse sea salt, cinnamon and white chocolate chips
None
Gail
Strawberry lemonade
a lemon flavored custard with strawberries mixed in.
I would make this available as a sundae layered with regular or lemon flavored pound cake.
Christina
Breakfast at Tiffany's

Base Maple Custard with chunks of waffle cone

Kate
"I Don't Wanna Grow Up" Grown Up PB&J
Lightly cinnamon-y vanilla custard swirled with almond butter and fresh strawberries/strawberry jam.
Do you have to use toppings already on the Julie Ann's menu? If so, let me know and I'll adjust the flavor accordingly since you don't have almond butter!
Jacqueline
Slumber Party

Base Vanilla with pretzel, semi-sweet chocolate, white chocolate, caramel and chocolate ribbons swirled in

Kate
White chocolate lemon lavender

Vanilla ice cream with dried lavender, lemon zest, little lemon juice white chocolate chunks

Nadia
Salted praline carmel custard
Vanilla custard, ribbons of carmel and praline pieces.
no
carol
Coco Nutty Loco

Coconut custard with caramel swirls and cinnamon roasted pecans

Cheryl
VAN-NOLI
VANILLA AND CANNOLI
CANNOLI SHELL PIECES WITH FLAVOR BLAST OF CANNOLI FILLING
ANGELA
Rigo Arredondo
Dulce de Leche custard mixed with carmel & marshmallows & ganache
Best luck to the winner!
Rigo
Broken Resolution
Peanut Butter Sea Salted Carmel Pretzel Toffee
Peanut Butter Sea Salted Carmel Pretzel Toffee
Robert
Bienenstichkuchen

almond-flavored custard with yellow sponge cake pieces, honey, Bavarian creme and sliced almonds.

Elizabeth
StrawbPineKnickers
Vanilla custard with Strawberry Pineapple & Snickers mixed in
It's the ONLY concrete I order (for over 20+ years!!!)
Jamie
Crunchy brittle

Vanilla custard with generous chunks of homemade peanut brittle.

Elizabeth
Sundae Waffles

Vanilla base with crispy waffles and maple syrup swirls.

Deb
Blueberry pancake

Vanilla custard with maple syrup, blueberry, and ideally pancake pieces but I'd settle for graham crackers or waffle cone pieces.

Owen
Brookie Dough Explosion
Vanilla base loaded with brownie chunks and cookie dough with swirls of fudge and caramel
Served with a large chunk of waffle cone!
Jamie
Pistachio dream

A pistachio flavor ice cream, with pistachios, and dark chocolate mixed in. Topped with a mountain of whipped cream.

Emma
Neopolitan Love Song

Equal parts of Vanilla, Strawberry and Chocolate with a Hershey kiss on top.

Ray
Gingilla Pecan
Ginger | Vanilla Ice cream | Pecans
Ella
Chicken and waffle

Vanilla do maple swirl ice cream, with bits of waffle and a salted crumble (to simulate the coating on fried chicken)

Judi
PBJ Oreo

Chocolate custard, peanut butter syrup, strawberries, and crushed oreo

Matt
Cashbananutella

Chocolate & peanut butter base with melted Nutella & cashew pieces on top.

Brenda
Maraschino Almond Cupcake

Vanilla custard with bits of a maraschino cherry and almond flavored cupcake with almond flavored buttercream icing drizzled with maraschino cherry juice topped with whipped cream and a maraschino cherry

Brook
Sunday morning breakfast

Cake batter base, maple syrup, bacon, black sea salt

Larry
Salty Carmel Pistachio Cheesecake

Main flavoring is pistachio with actual nuts as well. Chunks of regular cheese cake. Small amount of Carmel drizzled on it with a little bit a sea salt!

Kaylie
Berry matcha

Base is matcha layered with freeze dried, fresh or swirl non preserves blackberries. It would have to have some type of lightly sweetened vanilla whip cream in it as well. Don't know how that would work but this a take on a partner Starbucks frapp.

Brittney
Take 5

Vanilla custard with peanut butter and caramel swirled into it. Layered with hardening chocolate, chopped peanuts, pretzel pieces, and a sprinkle of sea salt. Like a Take 5 bar, but betters because it's Julie Ann's!

Leah
Mount Inferno
Habanero pepper infused in Chocolate custard with hot fudge drizzled throughout.
So fun! Thanks!
Heidi
Cocoa Mint
Vanilla and chocolate swirl custard that is layered with Andy's mints, chocolate cookie crumble, a chocolate fudge drizzle, and brownie pieces.
No
Aleksandra
Bees knees

Vanilla Cream cheese flavored custard with a thick ribbon of honey throughout with a fresh blackberry/honey syrup topping

Claire
Peanches n' Cream
Fresh peaches, French vanilla bean ice cream, smidge of lemon juice
Whip Cream optional! (Would be cool if you actually made white cream ice cream instead of vanilla for the "cream")
Liam
Salty dawg gone nuts

Vanilla custard layered with premium salted nuts(no peanuts) and a swirl of Carmel

Peggy
Frenchcafe
Coffee with French vanilla
Mix and enjoy
Gregory
Chocolatey Chip Chip

Chocolate custard with Chocolate covered ridged potato chips & chocolate chips

Mary & Toni
Salty dawg gone nuts

Vanilla custard layered with premium salted nuts(no peanuts) and a swirl of Carmel

Peggy
Bugle Boy Crunch

Start with a deep chocolate ice cream, mix in crunchy peanut butter and crushed up bugles, top with chocolate magic shell for a chocolatey crunch

mark
The Abider

Two flavors of custard: a vodka flavored or infused vanilla, and a coffee custard. Mixed in with chocolate covered espresso beans and whipped cream

James
Salty Dog

Caramel custard base with Biscoff cookie butter & salted caramel ribbon

Dorothy
Bailey's
Chocolate lite mint flavor
Robert
Ashley
A cinnamon vanilla custard with big chuncks of graham crackers and swirled with clover honey and creamy peanut butter.
Nope.
Ashley
Lemon Blueberry

The base would be a creamy yet zingy lemon base with blueberries in it.

Dana
Toffi-yay!!!

My favorite candy is Toffifay, you can emulate this candy in a custard flavor with chocolate custard, crushed hazelnuts, Nutella, and caramel swirled in… I bet it'll be amazing!

Michelle
Over the river

Apple pie custard with a river of caramel running through it.

Cameron
Zinger

Cake flavored ice cream with swirls of raspberry and marshmallow fluff and finely shredded coconut

Tyler
Banana Splitarama

Banana flavored custard with strawberry and pineapple chunks mixed in and a chocolate fudge swirl. Topped with whipped cream and a cherry of course!

Shari
Mud Avalanche

chocolate vanilla swirl ice cream base with fudge and Carmel drizzle throughout. Mix-ins include m&m pieces, pretzel pieces, chocolate chips, and peanut butter cups

Dana
Burnt Caramel

This flavor has a smokey caramel taste to it from two sugars being dry- burned together, with salt mixed in. Made with organic ingredients: organic cream, organic nonfat milk, organic cane sugar, organic egg yolk, organic sweet cream buttermilk, succanat, Demerara sugar, cream cheese, vanilla extract, Himalayan pink salt.

Elyce
Let's Get Chip-Faced

Cool, chocolate chip mint base layered with chocolate chip cookie crumbles.

Ashley
Old fashioned butter rum

Vanilla custard layered with thick buttery rum flavored caramel.

Stacey

We are a family owned and operated frozen custard shop serving the McHenry County area. We are dedicated to providing fresh and locally produced flavors, sundaes, shakes, affagatos, and concretes.
We are located at 6500 NW HWY, in Crystal Lake, IL. We are located next to the IHOP, across the street from Walgreens and CVS in the Plaza.
Monday: 11:00 AM to 10:00 PM
Tuesday: 11:00 AM to 10:00 PM
Wednesday: 11:00 AM to 10:00 PM
Thursday: 11:00 AM to 10:00 PM
Friday: 11:00 AM to 10:00 PM
Saturday: 11:00 AM to 10:00 PM
Sunday: 11:00 AM to 10:00 PM