Tom's Farm + Daily Projects + Julie Ann's 4 Home of the Sparrow.
Strawberry Custard For All to Benefit a Great Local Cause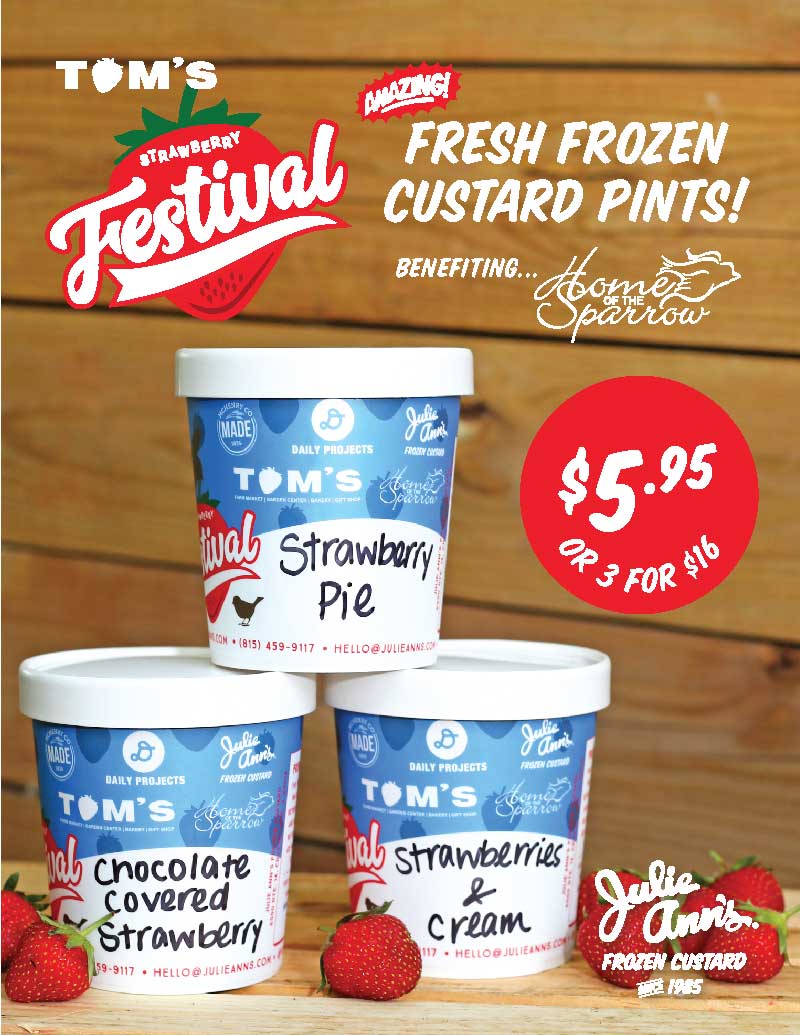 What do you get when you match fresh strawberries, amazing chefs, fresh frozen custard, and an amazing organization supporting local moms and their kids? Answer: A Strawberry Festival Custard Collection.
Available for a limited time we are making fresh frozen custard using Tom's Farm Strawberries sold at Daily Projects in Lake in the Hills, Tom's Farm in Huntley, and at our shop in Crystal Lake. You may want to call first, they are going fast. Proceeds to support Home of the Sparrow.
Available Flavors: 
Strawberry Pie
Choc. Covered Straw.
Straw. Cheesecake
Strawberries & Cream
Straw. White Choc.
Straw. Espresso Chip
Thanks to Sang and Kevin from Daily Projects, Tom, Liz, Gail, and the Farmers at Tom's Farm, and Linda and Crew who have been cutting thousands of strawberries for these amazing flavors.

We are a family owned and operated frozen custard shop serving the McHenry County area. We are dedicated to providing fresh and locally produced flavors, sundaes, shakes, affogatos, and concretes.
We are located at 6500 NW HWY, in Crystal Lake, IL. We are located next to the IHOP, across the street from Walgreens and CVS in the Plaza.
Monday: 11:00 AM to 10:00 PM
Tuesday: 11:00 AM to 10:00 PM
Wednesday: 11:00 AM to 10:00 PM
Thursday: 11:00 AM to 10:00 PM
Friday: 11:00 AM to 10:00 PM
Saturday: 11:00 AM to 10:00 PM
Sunday: 11:00 AM to 10:00 PM