PRE-ORDER NOW, PAY WHEN YOU PICKUP!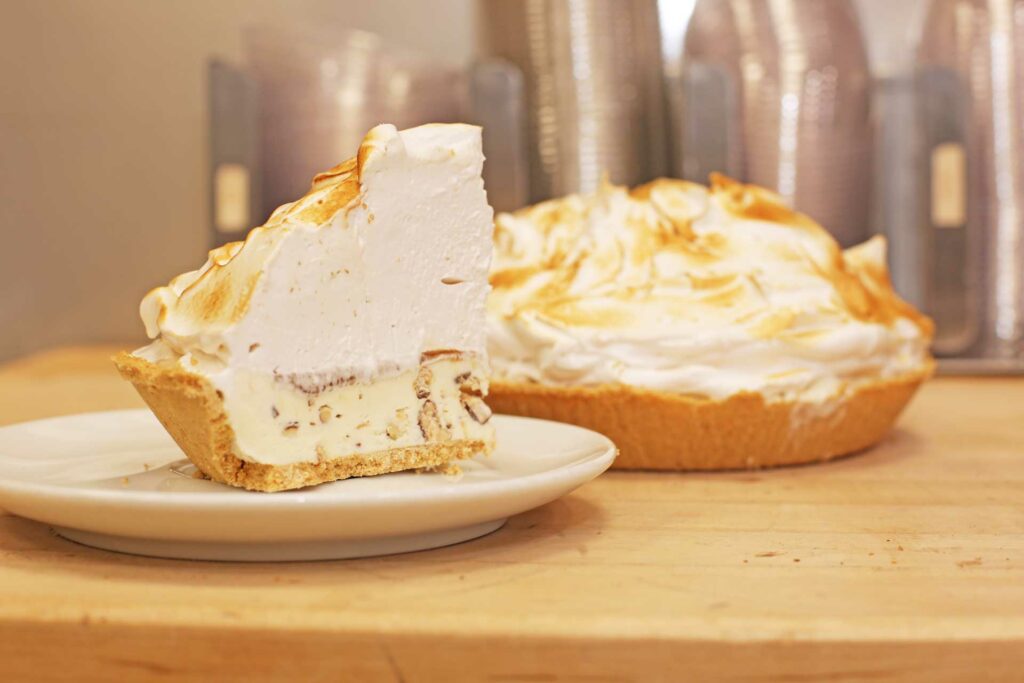 About The Baked Alaska Custard Pie
The Baked Alaska (first known as the Alaska Florida) received its famous moniker in 1867 after the US purchased land that eventually became the state of Alaska. Our take on this iconic dessert starts out with a handmade graham cracker crust and we add caramel and a delectable frozen custard made especially for this pie: Toasty Almond Toffee, which is an almond custard layered with roasted almonds and chopped Heath Toffee pieces.
We top off this pie with a sumptuous layer of homemade Italian meringue (which cooks the egg whites) and gently torch it for that toasted effect. Due to the labor intensive nature of this pie, we are offering a limited quantity of these pies, so make sure you order quickly! (Inscriptions and modifications are not available for this pie).
Layers
Toasty Almond Toffee Custard
Ordering Instructions
Our cakes and pies are handmade in layers and take 3 days to complete. Rush orders are available. The link above will take you to a Preorder Request Form where you can add inscriptions and make changes to your cake or pie. You will pay when you pickup your cake or pie. We make cakes and pies every day of the week from 11am to around 4pm. You can also call us to place your preorder at (815) 459-9117 during our regular store hours. We are a family owned and operated frozen custard shop serving the McHenry County area. We are dedicated to providing fresh and locally produced flavors, sundaes, shakes, affogatos, and concretes.
We are located at 6500 NW HWY, in Crystal Lake, IL. We are located next to the IHOP, across the street from Walgreens and CVS in the Plaza.
Monday: 12:00 PM to 9:00 PM
Tuesday: 12:00 PM to 9:00 PM
Wednesday: 12:00 PM to 9:00 PM
Thursday: 12:00 PM to 9:00 PM
Friday: 12:00 PM to 10:00 PM
Saturday: 12:00 PM to 10:00 PM
Sunday: 12:00 PM to 9:00 PM