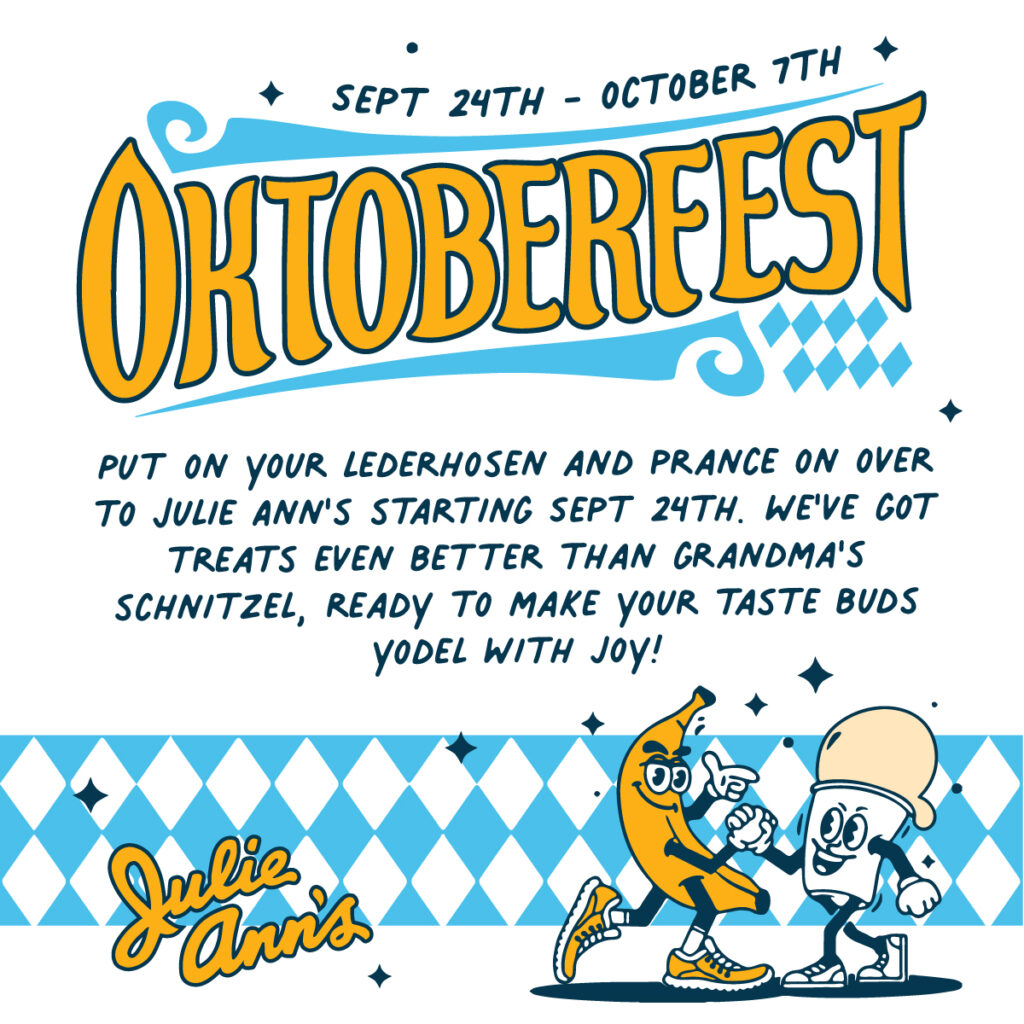 OCKTOBERFEST @ Julie Ann's
Put on your lederhosen and prance on over to Julie Ann's starting Sept 24th…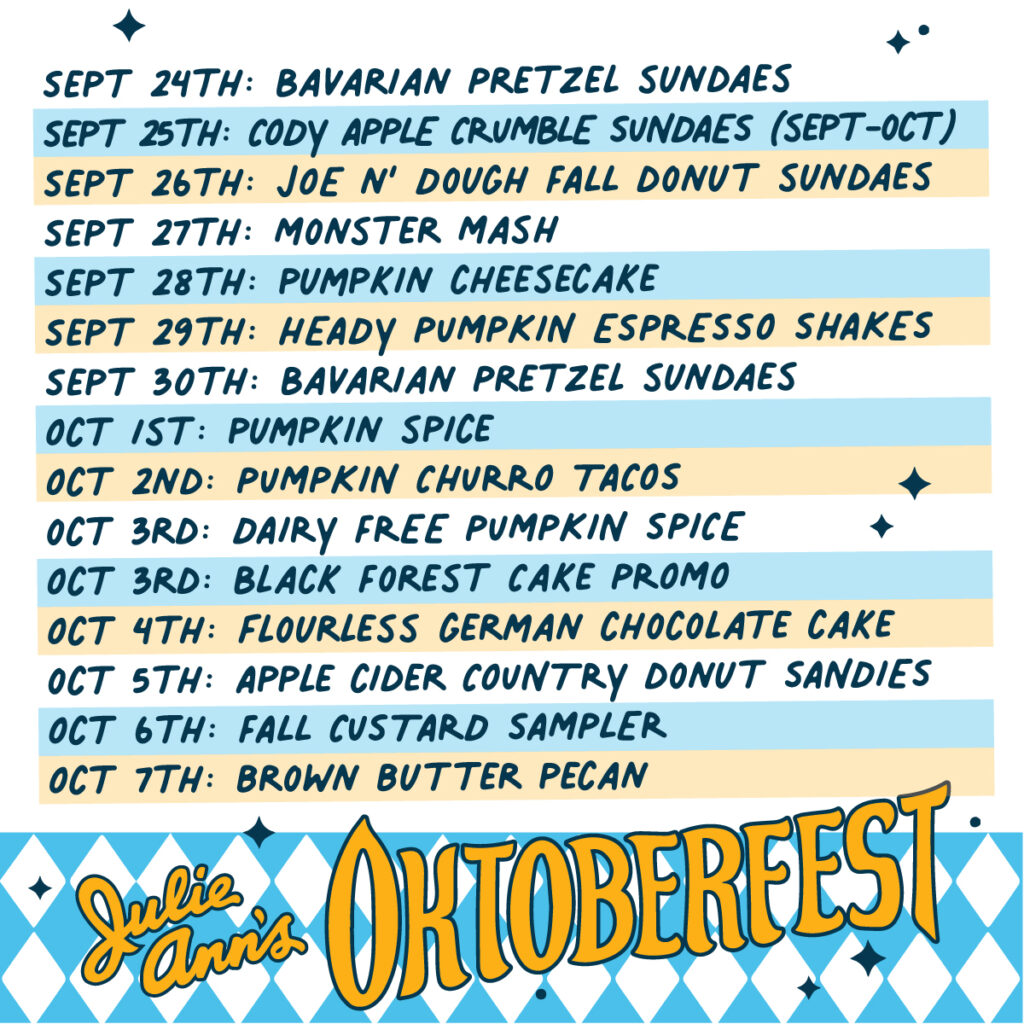 🥨🍁 Drumroll, bitte! Introducing Julie Ann's Oktoberfest! Swap your schnitzel cravings for our delightful treats and prance on over in your best lederhosen. From Sept 24th to Oct 7th, here's what we have lined up to make your taste buds yodel:
📅 Calendar of Festive Flavors:
Sept 24th: Bavarian Pretzel sundaes
Sept 25th: CODY APPLE CRUMBLE SUNDAES
Sept 26th: JOE n' Dough FALL donut sundaes
Sept 27th: Monster Mash
Sept 28th: Pumpkin cheesecake
Sept 29th: HEADY PUMPKIN ESPRESSO SHAKES
Sept 30th: Bavarian Pretzel sundaes
Oct 1st: Pumpkin spice
Oct 2nd: PUMPKIN CHURRO TACOS
Oct 3rd: DAIRY FREE PUMPKIN SPICE & Black Forest Cake PROMO
Oct 4th: Flourless German chocolate cake
Oct 5th: Apple cider COUNTRY donut SANDIES
Oct 6th: FALL CUSTARD SAMPLER
Oct 7th: Brown butter pecan
Joe & Dough Apple Cider Donut Sundaes (One Night Only)
🍎🍩 Sept 26th Special Alert! Dive into our Joe & Dough Apple Cider Donut Sundaes! Joe & Dough are rolling in with their cute blue trailer, and we're setting up Mary Lou for a magical evening. Delight in their freshly baked apple cider donuts paired with our rich frozen custard, drizzled in salted caramel and crowned with fresh apple topping — all crafted from tart Cody's Apples, straight from the orchard. 🌳 Join the fest from 6 to 8pm and enjoy FREE apple cider to complement your treat. A fall rendezvous you doughn't want to miss! #JulieAnnsOktoberfest #DonutMissOut 🍁🍦
Get Twisted with Bavarian Pretzel Sundaes! BIG ENOUGH TO SHARE
🍂 Sept 24th & 30th Special Alert! Twisting into the heart of autumn, we're serving up a delightful twist you didn't see coming on both these dates: Bavarian Pretzel sundaes! A harmonious blend of salty and sweet that dances on your palate, ready to whisk you away to Bavarian lands. Unwind, get a little twisted, and relish this flavor fusion in the best way possible. Mark your calendar and join us for a treat that's both nostalgic and novel! 🥨🍨 #JulieFallsForFlavors #OktoberfestDelights #TwistIntoFall #BavarianBliss
ALL SEASON LONG… Cody's Apple Crumble Sundae
🍂 Sept 25th Delight Alert! Pumpkin spice, step aside because Cody's in town! Introducing our CODY APPLE CRUMBLE SUNDAE. We're talking mouth-watering homemade crumble paired with a made-from-scratch apple topping, crafted from the tartest of Cody's apples. A symphony of flavors that screams autumn like no other. This isn't your ordinary sundae; it's a journey through orchards and autumnal breezes. Available all season long. So, why settle for the usual when you can dive into our delightful crumble? 🍏🍦 #FallInLoveWithJulie #CrumbleNotFumble #AuthenticAutumnEats
Pumpkin Churro Custard Tacos!
🍂 Oct 2nd Fiesta Alert! Custard Tacos are Back, and they're getting a fall makeover! Introducing: PUMPKIN CHURRO TACOS. Dive into our crisp homemade waffle taco shells, generously filled with creamy pumpkin delight. But wait, there's more! Each taco is decadently dipped in rich dark chocolate and then showered with our signature churro topping. It's a fusion of sweet, crunchy, and pure autumnal magic. A little sweet, a little crunch, a whole lotta fall! 🌮🍂 #TacoAboutFall #ChurroCharm #WaffleWow #PumpkinPerfection