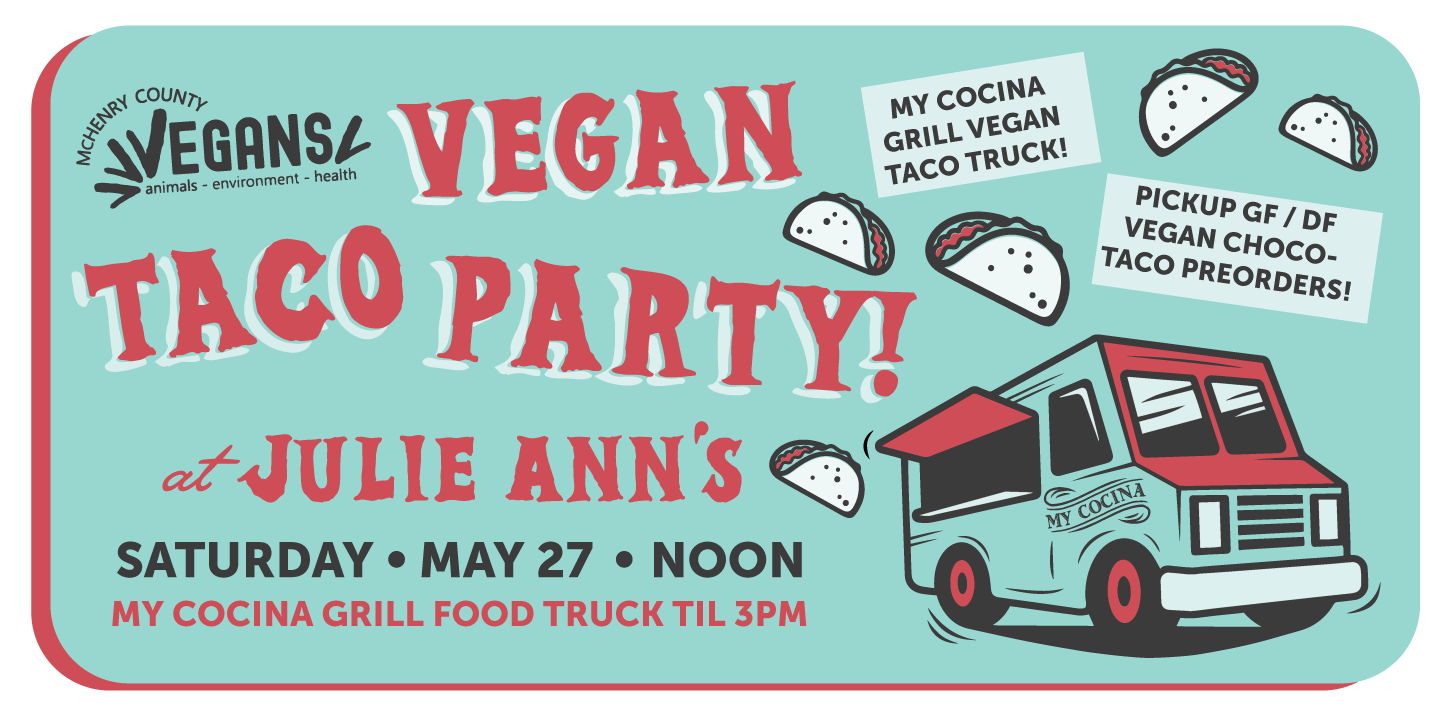 PREORDER VEGAN "CUSTARD" TACOS AT JULIE ANN'S
Preorder Now, Pickup on MAY 27th Weekend!
Get ready to have your taste buds tickled with pure delight! We've got something extraordinary cooking up in our kitchen that will make your mouth water uncontrollably. Introducing the one and only… drumroll… Vegan "Custard" Taco!
Picture this: a freshly baked GF, DF, Vegan waffle cone taco filled to the brim with heavenly, freshly churned GF, DF, Vegan coconut cream-based "custard." Oh, but that's not all! We're taking it up a notch by drizzling vegan and DF dark chocolate from Askinosie all over it, like a magical chocolate waterfall. And as if that weren't enough, we're sprinkling a gluten-free churro crumble on top, because who can resist the allure of a churro?
But wait, there's more! We've teamed up with the fantastic Carol Ann and Joan from the McHenry County Vegan Meet-up and the talented Jeff from My Cocina Grill to create a mind-blowing party. It's a collaboration that will go down in vegan history!
My Cocina Truck Menu (All Vegan)
Cheesy crunch taco
Birria taco
Roasted cauliflower taco
Beyond street taco
Nachos
Street corn
Fresh squeezed green cactus juice
Margarita Dairy Free "Custard" (Julie Ann's Flavor of the Day)
Now, here's the scoop: Preorders will be close around May 22ish. We need some time to work our magic, baking those taco shells to perfection, churning the dairy-free deliciousness, crafting our super-deluxe dairy-free chocolate shell, and mixing up that tantalizing GF churro topping.
If you can't pick up your Vegan "Custard" Taco right away, no worries! We'll hold it for you for up to 10 days. But mark your calendars, folks! The grand pickup event will take place at Julie Ann's, located at 6500 NW HWY UNIT A, Crystal Lake, IL 60014, on Saturday, May 27, at high noon. And guess what? My Cocina Grill's Vegan Truck will be there, ready to serve up an epic lunch!
We can't contain our excitement, and we hope you're as thrilled as we are about this scrumptious creation. So, let's taco 'bout it and make your preorder today!
Tummy-rumbling regards,
Linda and Pete
—
Reach out if you have any questions: Julie Ann's Frozen Custard (815) 459-9117 hello@julieanns.com julieanns.com
Did you miss the preorder? No worries, we made plenty of extra! We are selling them on a first come, first serve basis, so stop by the shop on May 27th!