Frozen Custard Variety Packs Available Now!
Fresh frozen custard sandwiched between two Devil's food cookies make a take-home item that won't last long in your freezer…
Frozen Custard Variety Packs Available Now!
Fresh frozen custard sandwiched between two Devil's food cookies make a take-home item that won't last long in your freezer…
Frozen Custard Sandwich Variety Packs
Our team has been working on our next great custard consumable. We have been busy baking, melting, mixing, tasting and testing in search of the perfect frozen custard sandwich.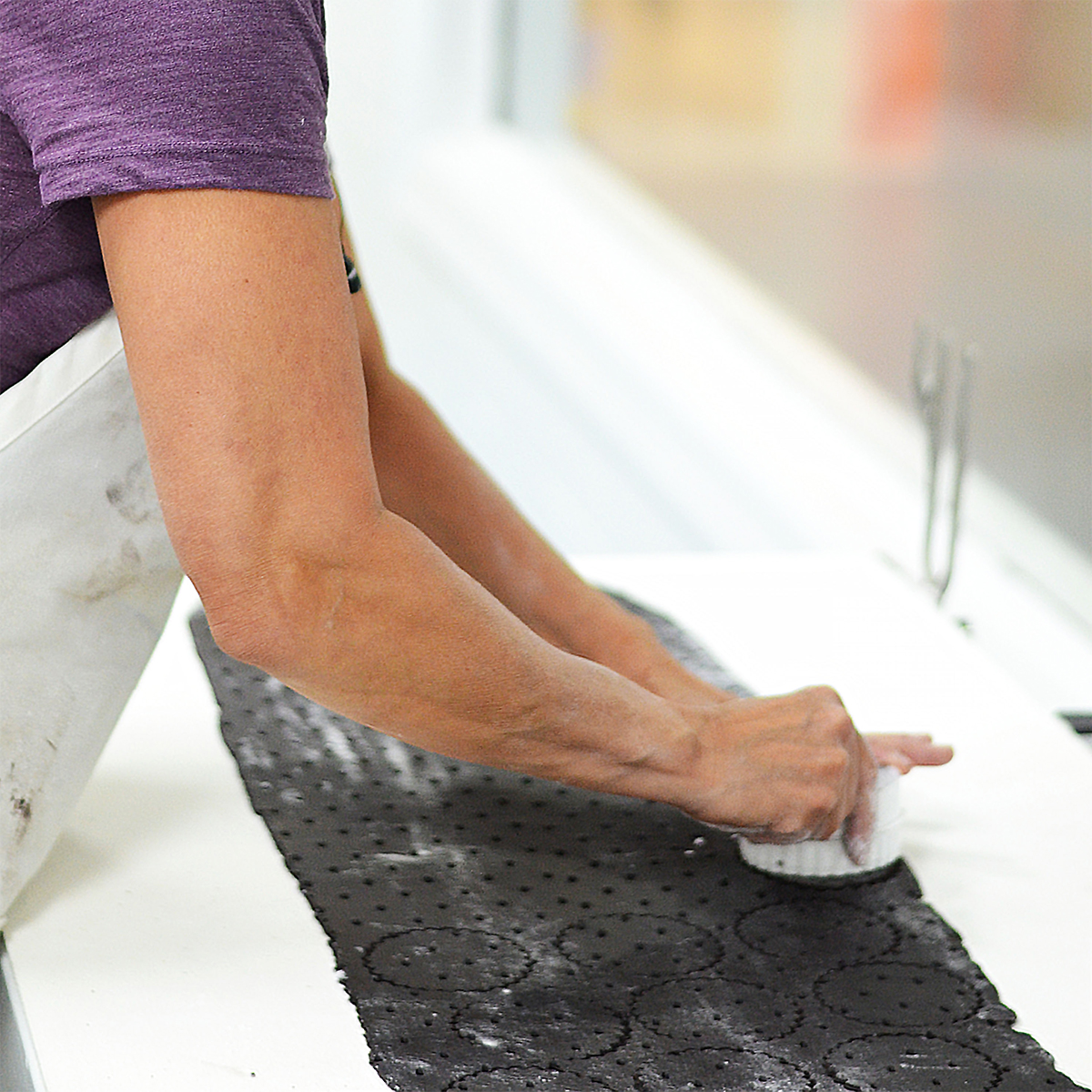 Here's Linda stamping out Devil's Food Cookies.
Our goal is to create the perfect cookie for frozen custard, one that is a great mix of crispy, chewy and does well when frozen. One that is made from simple, high quality ingredients like dark cocoa powder, flour, butter, salt and eggs; but not too sweet…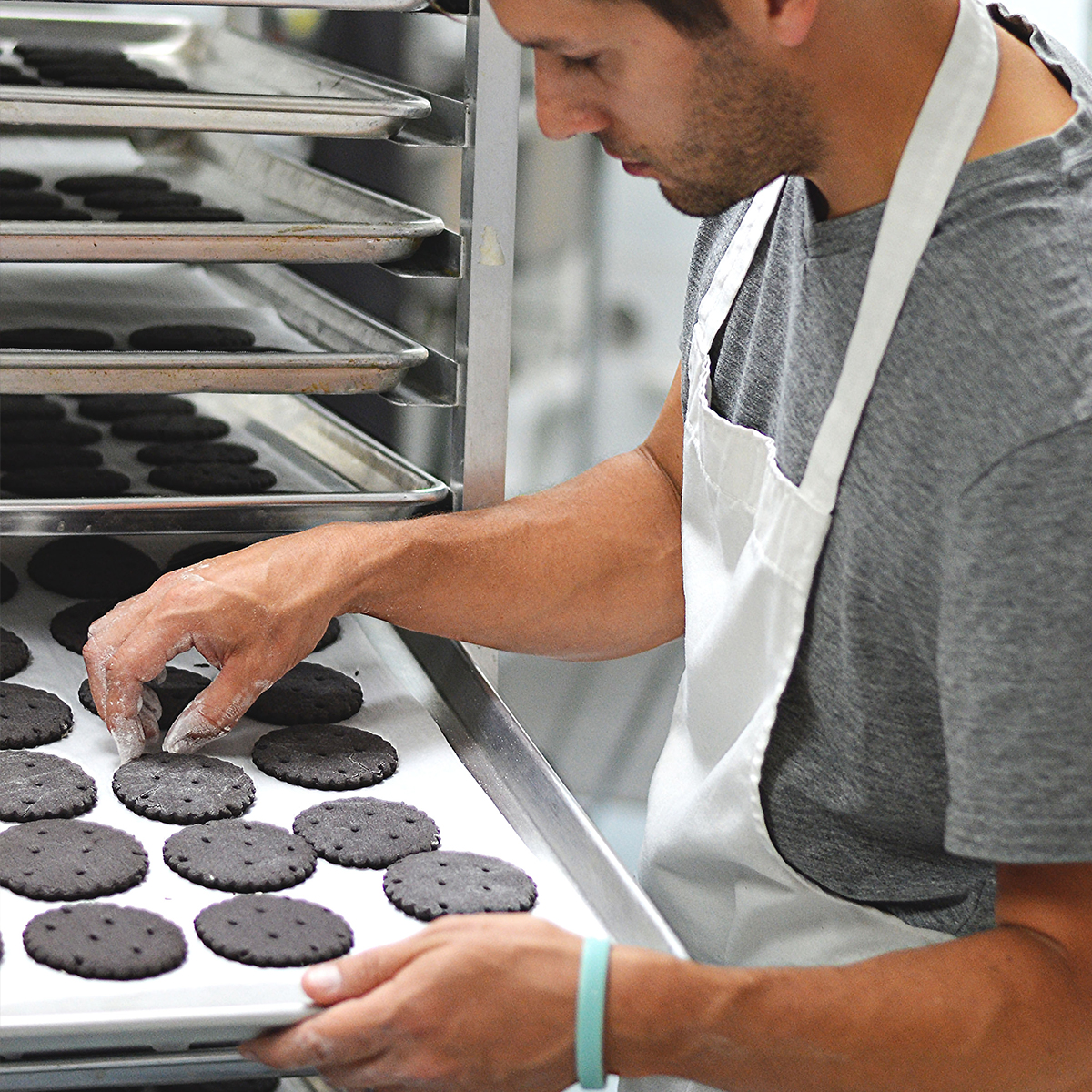 Johnny-Cakes is getting the cookies into the oven.
So we started baking. We have baked literally dozens and dozens of batches, almost killing our beloved Linda in the process. We also found that blooming the dark chocolate powder in hot butter brings out the flavor and aroma.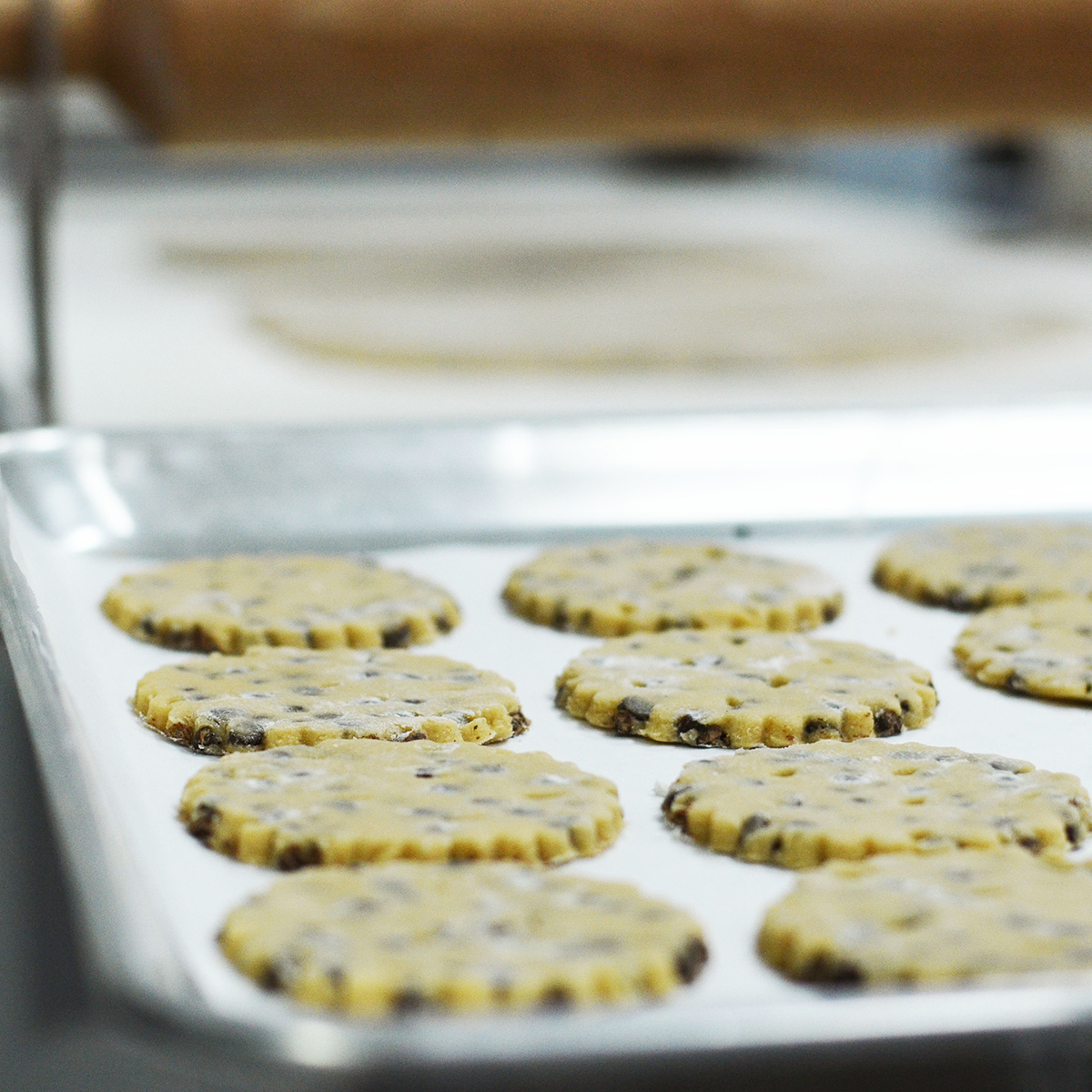 Here are the cookie dough cookies, ready for the flash freezer.
Introducing our Devil's Food Cake Frozen Custard Sandwiches! We have created 3 different varieties with a Cookie Dough Sandwich that can be purchased individually or in variety packs. Let's take a moment to introduce them so you can decide which one to try first: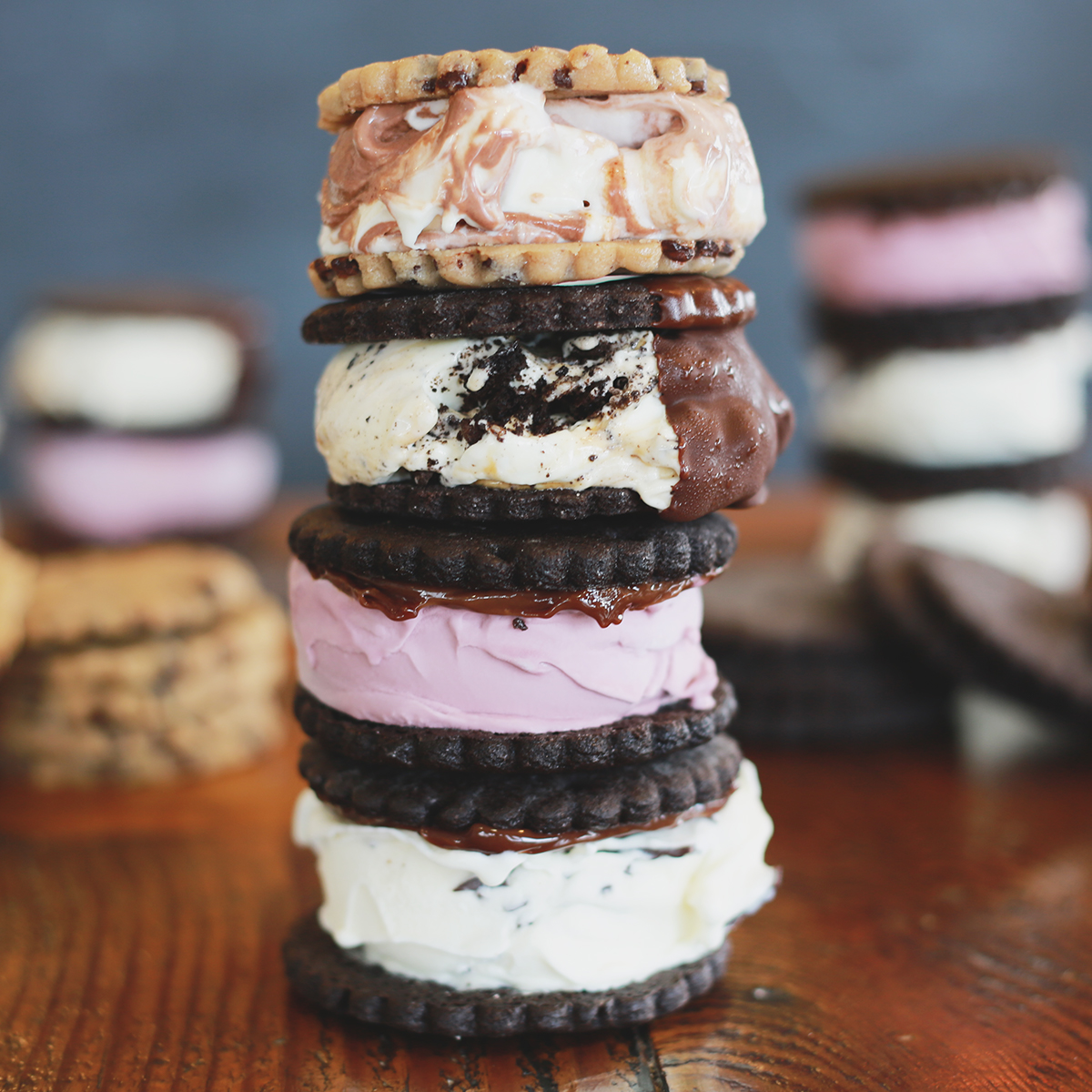 From our freezer to yours, you are going to love 'em all.
DIPPED SALTED CARAMEL OREO
Is there anything better than layering real Oreo Cookies, Caramel and Pink Himalayan Salt in two perfectly baked chocolate cookies? Well, actually yes, we also dip half the finished sandwich in our hardening dark chocolate (that we make in house)… This thing is pure frozen custard perfection.
FUDGY MINT CHIP
Sandwiched between two crispy/chewy cookies we place our mint chip custard (no nasty green food coloring here, just high quality mint essential oil) and a layer of fudge. At first I called it "Fudgy Mint Flake" because we use amazing melt-in-yo-mouth truffle flakes, but Miss thought that chip sounded better and we all agreed. This sandwich offers a fresh and crisp texture that pairs perfectly with our fresh baked devil's food cake cookies.
BLACK RASPBERRY FUDGE
We use our Black Raspberry Custard in many different products in the shop; from our Raspberry Julie Bars to our Pies and Cakes since the late 80's. For good reason too, it is really really good. Layer it in with fudge and the chocolate cookies and you are in heaven. This sandwich offers a sweet chocolate raspberry combination that is truly unique to our shop.
COOKIE DOUGH DUE BASI
For our final act we are giving you cookie dough lovin' folks (me included 😉 a real treat. For the past couple years we have been making our own cookie dough. We've been making it without any preservatives or artificial anything! Our egg-less dough is made with high quality flour, sugar and chocolate chips. It will make you feel that you are hanging out in Mom's kitchen (watch out for that wooden spoon)! We freeze the dough into cookie shapes and then sandwich our Vanilla/Chocolate Due Basi (two bases) frozen custard. This mix of chocolate and vanilla custards doesn't over-power the sandwich, so that you can actually taste the dough. If you feel that there is never enough cookie dough in the pints, then this is made for you.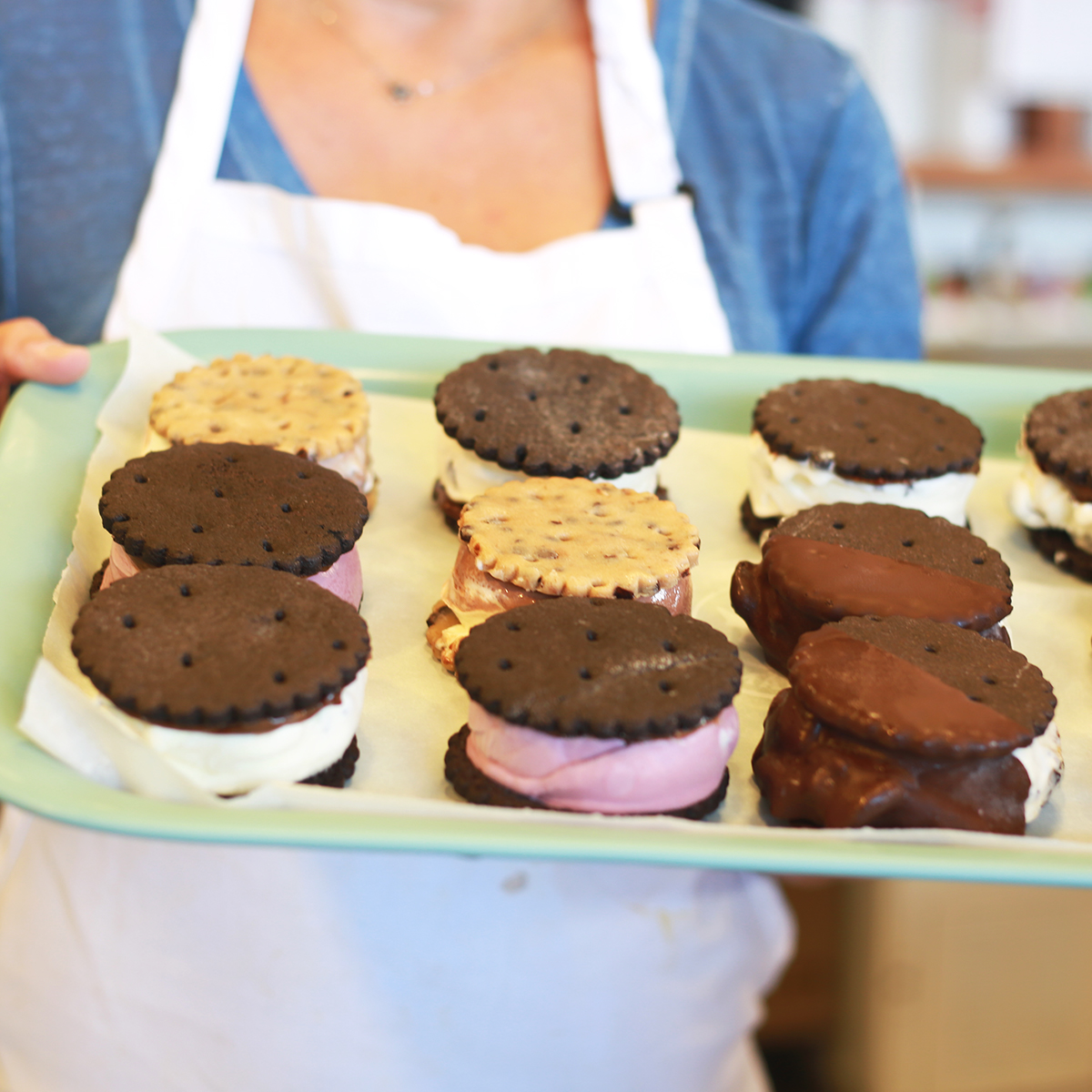 We are really proud of these puppies and cannot wait for you and your family to try em too. For a limited time we are offering all four in a variety pack to feed your freezer for $12.99. Please give us feedback and your ideas for new combinations in the comments below or direct message us on the Facebook. We are a family owned and operated frozen custard shop serving the McHenry County area. We are dedicated to providing fresh and locally produced flavors, sundaes, shakes, affogatos, and concretes.
We are located at 6500 NW HWY, in Crystal Lake, IL. We are located next to the IHOP, across the street from Walgreens and CVS in the Plaza.
Monday: 12:00 PM to 9:00 PM
Tuesday: 12:00 PM to 9:00 PM
Wednesday: 12:00 PM to 9:00 PM
Thursday: 12:00 PM to 9:00 PM
Friday: 12:00 PM to 10:00 PM
Saturday: 12:00 PM to 10:00 PM
Sunday: 12:00 PM to 9:00 PM